​Exploring the Queensland Outback on a 5 day road trip from Brisbane is the perfect way to see the dramatic landscapes from Brisbane to Winton. Expect sweeping red deserts, mountainous ranges and country towns full of quirky characters and memorable moments.
Take a 5 day road trip from Brisbane
With Winton as your destination, you'll experience easy driving on the Warrego, Carnarvon, and Capricorn Highways. It is 17 hours and just over 1,500 kilometres of Outback fun. There's natural, culture and heritage aplenty in this outback town. It's known as the home of Waltzing Matilda, the dinosaur capital of Australia and blessed with an abundance of beautiful boulder opal. Winton is also home to the largest film festival dedicated to Australian cinema. The Ninth Annual Vision Splendid Outback Film Festival is in late June and includes a diverse program of masterclasses, workshops and live entertainment.
Although this is a long drive and many people start out with big four-wheel drive vehicles, the roads are well-maintained and perfectly suitable for average cars. So don't be put off if you only have a family sedan.  You can still make the trip and enjoy the Outback experience.
The most important thing is to plan ahead so your accommodation is booked.  During the Outback's peak travel times accommodation can be booked out resulting in little choice for late comers. 
Brisbane to Winton – ​Explore the Queensland Outback on a 5-day road trip from Brisbane
Like most road trips, half the fun on this five-day road trip from Brisbane is getting there! The Brisbane to Winton route will take you through charming country towns, rugged mountain ranges and vivid red plains. These are some of the most breathtaking landscapes in Outback Queensland.
Day 1: Brisbane to Roma
Pack the car with your road trip essentials and hit the Warrego Highway for an easy two-hour drive to start your trip from Brisbane to Winton. Follow these directions on Google Maps.
You are heading towards the Southern Queensland town of Toowoomba and prepare to have a blooming good time exploring Queensland's Garden City and its 150-plus parks and gardens. If you missed breakfast, stop at The Bakers Duck for the most amazing pastries and croissants. This is a great place to pick up some pies or artisan bread for roadside sandwiches.
From Toowoomba, drive the one-hour route to Dalby for a snack break. An Outback Queensland road trip is not complete without a roadside treat and some country hospitality. Want to fuel up in the sweets category? You'll find your fix at Scrummy Cakes, Darbys Fresh Bake or Katty Cakes.
With your tummy full of delicious treats, it's time to tackle the final stretch of today's three-hour journey to Roma. I recommend a traditional pub dinner at the Roma Explorers Inn before you call it a night.
​Roma streetscape. Photo credit: Tourism and Events Queensland/Vince Valitutti
Day 2: Roma to Carnarvon Gorge
Day Two on your Brisbane to Winton Outback Queensland road trip will see you travel through some of Queensland's most untouched terrains. Driving from Roma to Carnarvon Gorge takes just under three hours via the Carnarvon Highway. Make the most of the passing scenes before you catch a glimpse of Carnarvon Gorge National Park's towering white sandstone cliffs.
Set up camp in Carnarvon Gorge (I recommend the Sandstone Park Camp Site), and discover the wealth of cultural and natural heritage that awaits you. Put on your walking shoes and experience all the vibrant coloured lush landscapes of Carnarvon Gorge! If you feel capable of braving the cold, the best place for swimming in the Rock Pool. It is a short 600-metre return stroll from the main car park.
Welcome to Jericho. Photo: Tourism and Events Queensland​
Day 3: Carnarvon Gorge to Jericho
Wake up early and catch a final look at Carnarvon Gorge before you tackle the five-hour drive to Jericho via Capricorn Highway. Your Outback Queensland road trip drive along the Capricorn Way will take you past the Emerald gem fields and the Drummond Range near Alpha.
Get the camera ready before you arrive in Jericho. This is a beautiful country town that is home to just 100 people. The best spot to park up is the banks of the Jordan River at Redbank Park. Use binoculars to see the birdlife as the sun sets over the river.
Heritage-listed ghost gum tree located in front of the Barcaldine Railway Station. Photo: Tourism and Events Queensland
Day 4: Jericho – Barcaldine – Longreach
Your 5-day road trip from Brisbane is nearing the end! Follow the Capricorn Highway for an easy one-hour journey into Barcaldine. The small town of Barcaldine has a unique and famous history. It is home to the Tree of Knowledge and the birthplace of the labour movement in Australia. Be sure to check the schedule and try to catch a movie at the Radio Picture Theatre. Then it is just a one-hour trip to Longreach.
Longreach is a not-to-be-missed stop on your Brisbane to Winton road trip! You might want to spend a day or two here just exploring the region.
, Kyd* 10 Things to do in Longreach
Pride of the Murray
The Pride of the Murray, a 100-year-old paddlewheeler, made a mega 1400 km journey from Echuca to Longreach. After some restoration, she is back in the water and cruising the Thomson River. Longreach may be 600km from the Pacific Ocean, but thanks to the Pride of the Murray, the western Queensland town more well known for wool and cattle, will now become one of Australia's largest cruising hubs. Nearly 28,000 travellers are expected to cruise the Thomson River this season thanks to adding the 100-year-old paddlewheeler, Pride of the Murray, to the fleet.  To give some perspective – that's equivalent to 14 P&O cruise ships full of passengers cruising Longreach this year alone.  Visit Outback Pioneers if you want to experience a sunset cruise. *Pride of the Murray is currently being refurbished after sinking in the Thomson River.
Visit the Stockman's Hall of Fame
The Stockman's Hall of Fame and Outback Heritage Centre is an absolute must-visit. Delve into over 40,000 years of Aboriginal history (Longreach is on Iningai, Malintji and Kuunkari country), learn how stockmen became legends, hear stories of cattle barons and flying doctors, of rodeo men and women, and watch the live show. Try your hand at whip cracking and check out the entranceway, nicknamed "the Opera House of the outback".
Where Qantas calls home – visit the Qantas Founders Museum
The flying Kangaroo calls Longreach home, and the Qantas Founders Museum is another must-do. There are interactive aircraft exhibits, a flight simulator and decommissioned aircraft where you can walk along the wing, visit the cockpit and stand inside the engines. Pretty cool!
Sunset on the Thomson River
Sunsets over the mighty Thomson River are special. FYI, the town is named after the "long reach" of the river, and it sits bang on the Tropic of Capricorn! Back to sunsets …. the award-winning Drover's Sunset Cruise and Smithy's Outback Dinner & Show lets you soak up every bit of sunset while hearing about the river, its wildlife and indigenous connections. As the colours fade into starlight, dock at Smithy's Outback Dinner & Show, for table-service dining featuring camp-oven modern cuisine, and live entertainment by the most Aussie of performers. Or join Outback Pioneers for their Starlight's Cruise Experience, a four-hour cruise down the river on a historic paddle-wheeler, stockman's campfire dinner and entertainment.
Sunset on a working station
The fifth-generation 80,000-acre sheep and cattle property Camden Park Station offers amazing moments. Visits through Outback Aussie Tours include a famous outback sunset, sips & nibbles, the Tropic of Capricorn, the original shearing shed and the oldest private ballroom in the Outback to name a few highlights. Oh, the Queen, Duke of Edinburgh, The Prince of Wales and The Duchess of Cornwall have all ticked this off their bucket buckle list as well!!
Visit the world's biggest classroom
Longreach is home to the world's biggest classroom – the Longreach School of Distance Education which connects students and teachers from across the outback. It's school, but not as you know it.
Ride a Cobb & Co Stagecoach
Get your heart well and truly racing going full-tilt in a restored Cobb & Co stagecoach on the original mail route from Longreach to Windorah. It's the only stagecoach gallop in Australia – a 45-minute full speed dash through the bush pulled by five horses, on a bumpy but unforgettable ride with Outback Pioneers.
Brekkie from Merino Bakery
With a population of 3,000 but home to over a million sheep, it makes sense that the most famous bakery in Longreach has a roast lamb with caramelised onion pie as the special! Sauce isn't needed! Enjoy!
Dinner at Harrys, Lunch at The Welcome Home
Upstairs on Galah Street (yes, really), there's a bar and restaurant named after local legend Harry Redford, also known as the bushranger, Captain Starlight. You'll be welcomed by linen clothed tables and menus starring fresh seasonal produce and a wine list to match at Harrys Restaurant. For lunch, hit up The Welcome Home at 126 Eagle Street, owned by the McKinnon family, who've turned their farming business into a tourism one in response to the drought. There's also The Branch, a café in the old bank, and Kynda Café and Boutique, both on Eagle Street and run by young Longreachers. I have eaten at all of these and can recommend the tucker. For more on where to eat visit Experience Longreach. 
Retail Therapy at The Station Store
Welcome to an amazing outback emporium. The Station Store, run by the Kinnons, is based on the traditional outback store that sold everything pioneering families needed. Today's version has outback clothing, hats, boots, leatherware, local crafts, toys, books, hardware, haberdashery and more.
Starlight's Lookout
Speaking of the Bushranger Captain Starlight (one of Australia's most famous cattle thieves), a visit to his lookout 55km northwest of Longreach is worth it. This majestic rock formation can be hiked in 20 minutes to a brilliant view – watch the sunset from here, and you'll know why they call it Big Sky Country.
The Qantas Founders Museum is dedicated to telling the story of Qantas from its early days in Outback Queensland to the present day. Photo: Tourism and Events Queensland
Mitchell Grass Retreat – IMAGE Tourism and Events Queensland
Where to stay in Longreach
Mitchell Grass Retreat
Mitchell Grass Retreat offers an authentic outback experience, blending all the creature comforts of home with luxury glamping tents. This is a haven for those who wish to escape, rest, reconnect and explore Australia's natural outback. Surrounded by vast grasslands and visiting sheep and cattle from nearby properties, guests are also welcome to visit local properties where they can hear firsthand about living on the land. This luxury escape is also the chance to engage in a technology detox and immerse yourself in nature just by watching the golden red sundowns transform into deep blue hues.
Brisbane to Winton – ​Take an Outback Queensland road trip and stay in luxury at Saltbush Retreat.
Saltbush Retreat
Dust off the day's adventures with sunset canapes and a relaxing soak at Saltbush Retreat's exclusive outdoor bath terrace where you can soak in the rich mineral waters of the region. Saltbush Retreat is a luxury base for your outback holiday with interesting outback themed decor. The retreat is within walking distance of Longreach's hero attractions, the Australian Stockman's Hall of Fame and Qantas Founders Museum. Indulge in their luxury package for two, which includes two nights' accommodation, breakfast baskets, BBQ and salad pack, pantry essentials, pamper pack and cheese and antipasto hamper and bottle of wine to complement the outback bath experience. 
Brisbane to Winton
The Staging Post
Inspired by the pioneer era and nearby stagecoach journeys, The Staging Post is boutique heritage-themed accommodation.  It's perfect for those who love rustic-luxe style. Located in the heart of Longreach, The Staging Post has plenty of lovingly-crafted outback quirks that create an unforgettable sense of place. Kick off your boots here after an exciting day of adventuring, Features include rustic-luxe ensuites and unique rain-shower features, free Wi-Fi and air-conditioned rooms.
Brisbane to Winton roadtrip . IMAGE: Peter Lik
Day 5: Longreach to Winton
Take a slow start to the final day before you hit the two hours of road into the charming outback town of Winton. Get a taste of the town's rich history with a visit to the Waltzing Matilda Centre and the Australian Age of Dinosaurs Museum.
A rugged backdrop and mountainous ranges have earned Winton the reputation of Australia's Hollywood of the Outback. Renowned Hollywood blockbusters like Goldstone, The Proposition, Mystery Road and Total Control have been filmed in the region. It's only natural that this charming town would become home to the Vision Splendid Outback Film Festival, the largest film festival dedicated to Australian cinema.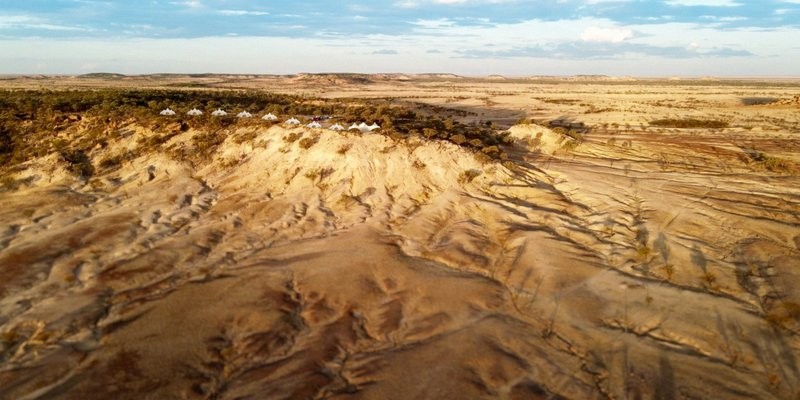 Brisbane to Winton – Rangelands will add a touch of luxury to your Outback Queensland roadtrip.
Where to stay in Winton
For a touch of luxury, head to Rangelands Outback Camp. This is a glamping retreat in the middle of the outback, where you'll appreciate the region's epic burning sunsets. Rangelands Outback Camp has a six tent camp, which offers an intimate and luxurious experience. Each supersize tent includes a king-size bed (or king singles) with many top designer comforts. Think air conditioning and touches of the local landscape's heritage. Rangelands is located on top a jump-up on Rangelands Station. It's a chance to experience life on a working cattle property 10km north of Winton in true comfort and style.
Winton's open-air cinema.
Vision Splendid Outback Film Festival
The 8th annual Vision Splendid Outback Film Festival will roll out the red carpet in Winton from Friday, June 25 to Saturday, July 2,2022. Spread across an unmissable nine-day program, the unique outback experience includes screenings under the stars in Winton's 103-year-old Royal Open Cinema. There are masterclasses fit for film enthusiasts to novices, live entertainment and tours of local film locations.
Find out more about the Vision Splendid Outback Film Festival 
More Outback destinations to explore